I drink 18-20 cans of Spindrift each week. Our recycling bin at home is mostly two things: cans of Spindrift and blueberry pint containers.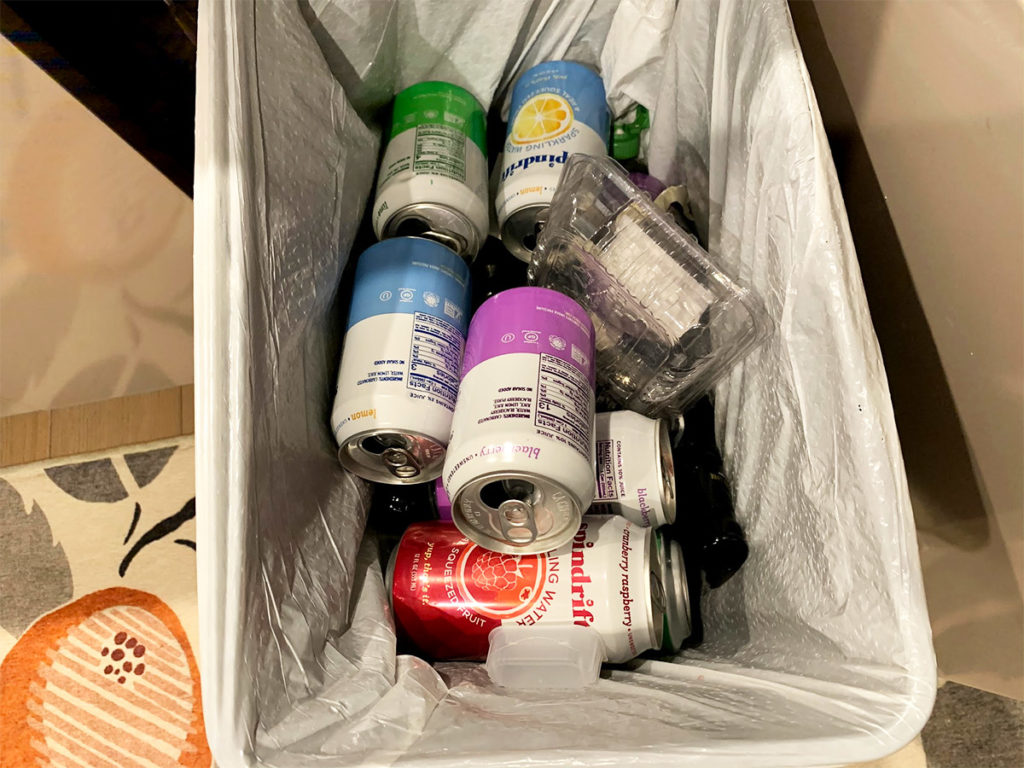 Spindrift is a sparkling water with a real squeezed fruit. There's no added sugar and they're pretty low in calorie count (usually in the 10-20 range). 
I've tasted all the flavors, even the less popular ones like Strawberry and Cucumber.

My top 5 favorites, in order, are:
Lemon
Grapefruit
Blackberry
Mango Orange
Lime
Raspberry Lime and Cranberry are also great and just right outside my top 5. I don't really like the Half & Half (basically a lemon + tea Arnold Palmer) except when it's really hot outside and I've already had my cold brew coffee for the day.
The Customer Journey Starts with Bagels
I had heard of Spindrift a long while ago, when their distribution was a bit more limited. Someone who was a client contact at one company had moved over to work at Spindrift. He came over to our office once to talk about e-commerce. We didn't get to work together but it was probably the first time I got exposed to the existence of Spindrift as a brand.
However, I didn't go out of my way to try it out. In fact, I would see it at Whole Foods or bodega store shelves and just ignore them.
It wasn't until a bagel shop opened up in our neighborhood that I got my first taste. When we went for the second or third time, my wife picked up a tall can of Spindrift Orange Mango. I remember thinking it was refreshing but nothing special.
Every week thereafter, when we went for our Saturday morning bagels, adding a Spindrift to the order became a habit. We ended up trying the flavors they carried, which included Raspberry Lime and Lemon.
The Impact of the Weather
As the weather got warmer, I began to pick up bottles of white wine or rosé on my way home every few days.
The thing I love about whites and rosés is the initial sip that is the perfect combo of cold, tart, and refreshing. Our old apartment did not have the best air conditioning and I was usually hot and bothered from my commute home, so the thought of ice cold wine was irresistible for me.
Once I popped open a bottle, I might finish 50-75% of it that evening, sipping throughout and after a meal while relaxing. It was a great way to celebrate the coming of summer but there were a couple of drawbacks:
it wasn't a cheap habit even if the bottles were in the $15-$25 price range
it wasn't the healthiest of habits as alcohol often impacted my sleep quality
At around the same time, my wife picked up a pack of Spindrift Lemon from Whole Foods. One day, determined to work out, I came home and didn't drink wine. Instead, I opened a can of Spindrift and boom–it achieved the exact same job that the wines had done all along: cold, tart, and refreshing.
Of course, I didn't know it exactly at the time, but a few days passed by and we were out of Spindrift. I had not had any wine during that time. Instead, I just crushed can after can of Spindrift.
I was hooked.
I asked my wife if we could get more. We went on Amazon and ordered a variety pack, which is a 20-can pack that includes Grapefruit, Lemon, Raspberry Lime, and Orange Mango.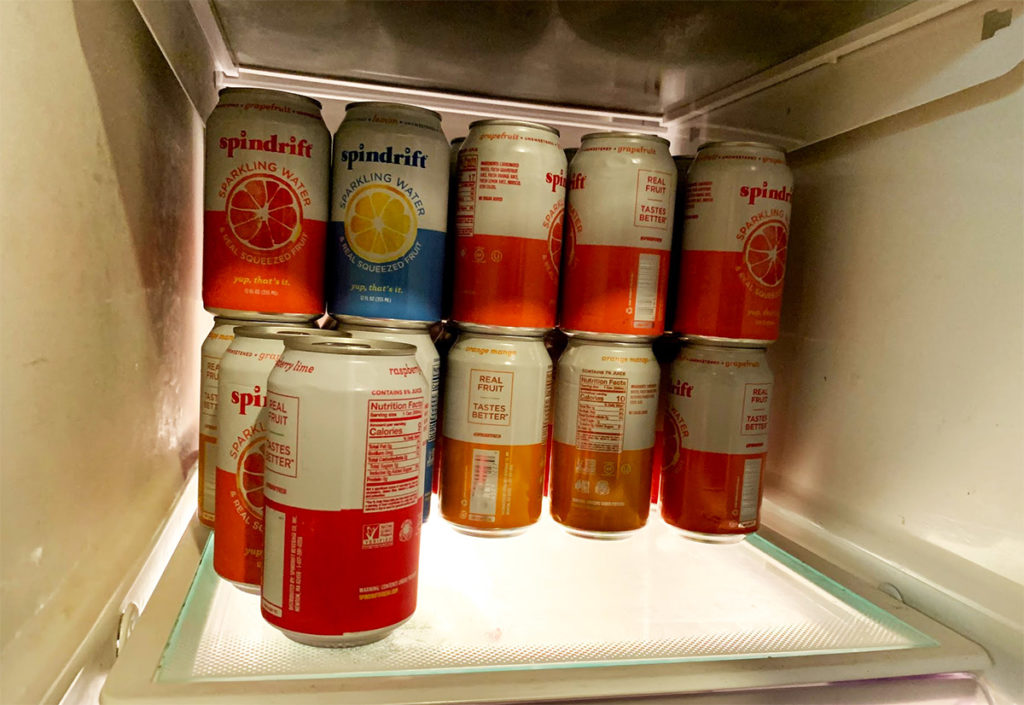 We got it a couple days later. Five days later, we were out. We ordered some more.
And all this time, my wine consumption went down even more. I ended up drinking only on special occasions when friends came over or we went out to eat.
Big League Drinking
I consistently began consuming at least 2 cans of Spindrift every weekday and at least 4 cans per day on weekends (sometimes 5 or 6). Our subscription via Amazon to two 20-can packs per month barely lasted 10 days. The only thing that slowed us down is if we traveled or had multiple nights where I was out.
We supplemented our subscription with "emergency Spindrift" purchases at Whole Foods. These would generally be one or two 8-can packs. However, even these were just not enough and we had some unfortunate days where we ran out.
I decided to place a big order to help build a stash that would help us more sustainably supplement our two 20-can subscriptions. I ordered 96 cans split among four flavors: Half Tea & Half Lemon, Blackberry, Lemon, and Cranberry.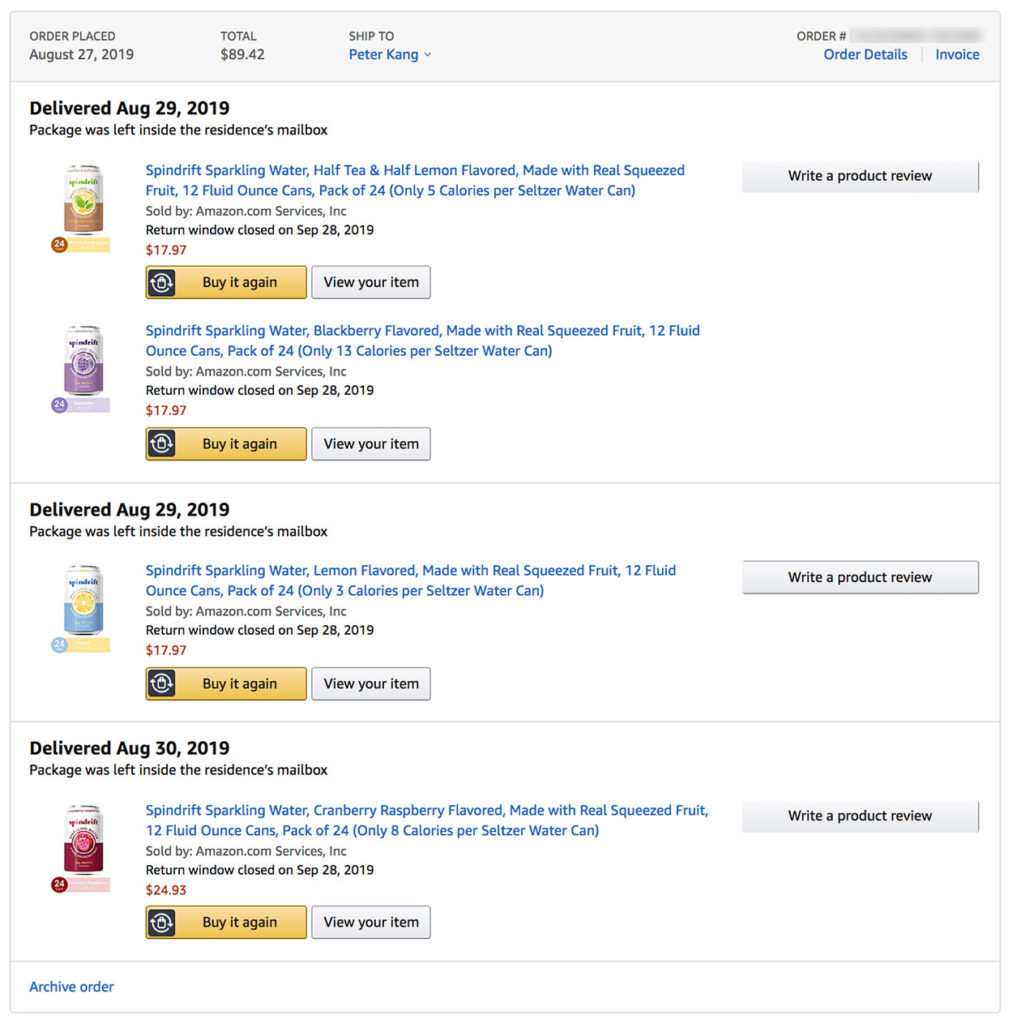 While it took up a lot of space, I felt secure and Spindrift-rich. And not once did I ever think I would tire of it.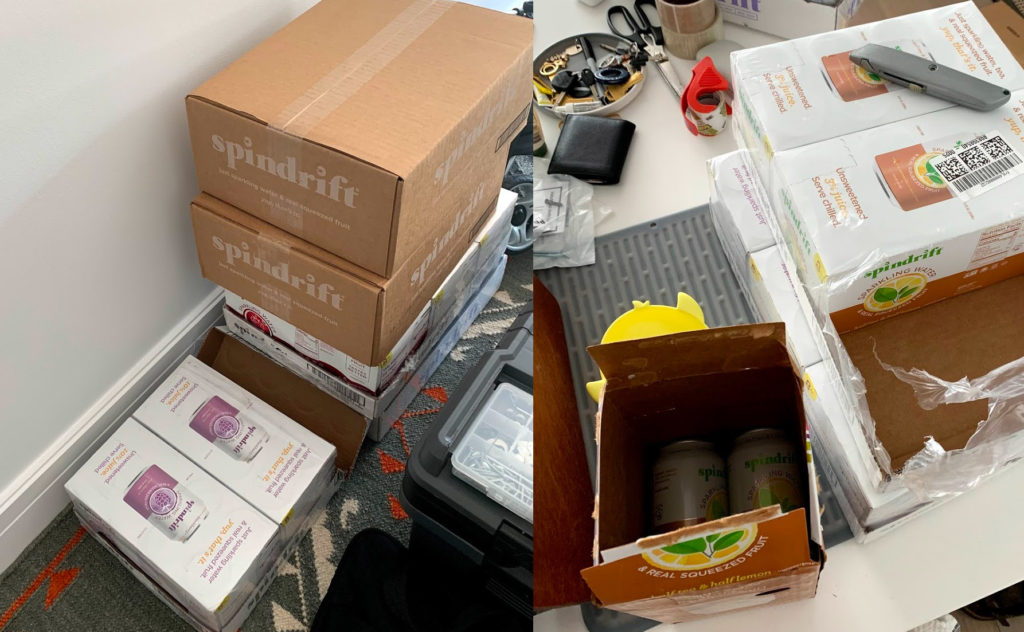 The stash lasted a good 6 weeks. I re-upped with another order, this time for 120 cans: 2x Blackberry, 2x Half Tea & Half Lemon, and 1x of the Cranberry.
We killed the Blackberry and Cranberry pretty quickly, but the Half Tea & Half Lemon, because I don't like drinking any caffeine close to bedtime, took much longer to complete (still have some cans left). I probably won't buy any Arnold Palmers again.
Most recently, we received another giant order about 7 weeks later. We did have to supplement with a couple emergency Spindrifts from Whole Foods during that time as we absolutely killed our 20-can variety packs.
This time around, we ordered 96 cans, 24-can packs of: Blackberry, Lime, Cranberry, and Lemon.
Passing Fad?
My smoothie phase ended when I took up intermittent fasting and started not eating anything in the mornings. It was also a lot more work to keep up. I could never stand to take protein shakes consistently as my stomach didn't find them agreeable. With Spindrift, its stickiness is in the simplicity of the ingredients–just sparkling water plus real fruit juice and no additives.
I've caught myself several times now, especially during football season, when I walked over to my fridge to grab a beer only to second-guess and opt for a Spindrift because of the trade-offs. I wasn't going to drink enough to get a buzz anyway but rather to enjoy that "crisp" feel of carbonated liquid with some kind of flavor. With Spindrift, I get that crispness without the guilt of empty calories.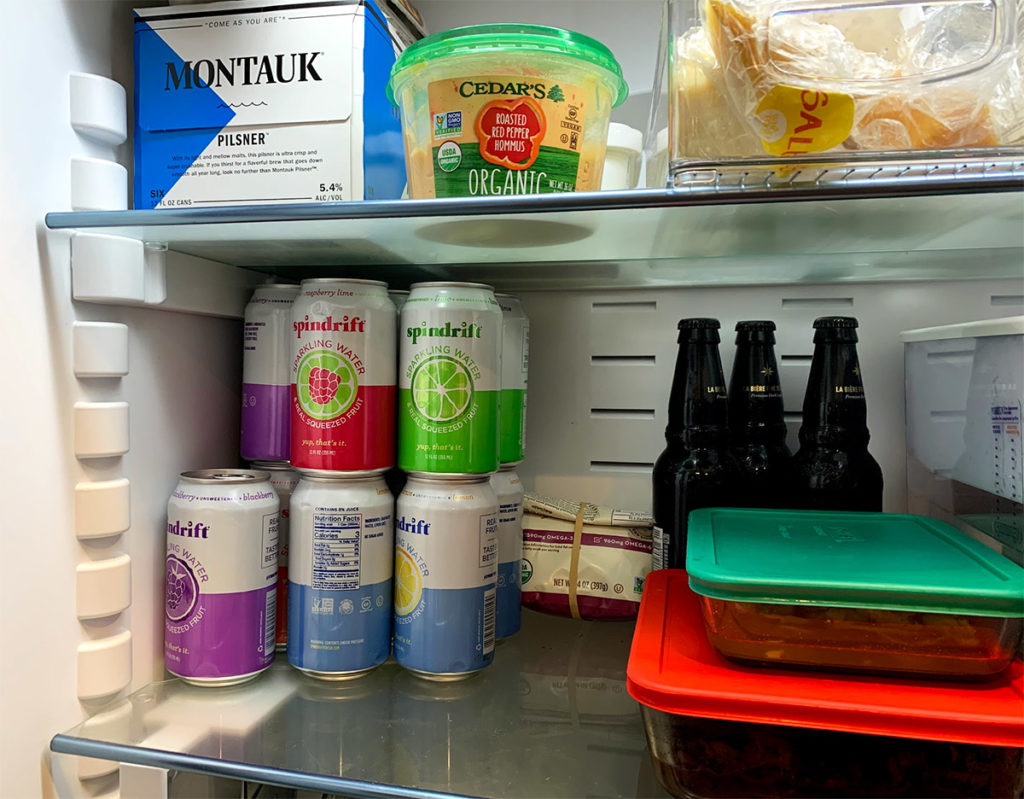 To the extent I want Spindrift to do the job that wine and beer did for me, I think it'll remain part of my daily habit.
One other thing I'll note again is the simplicity of Spindrift's ingredients. I don't care that each can has a few calories because I much prefer having real juice to things like "grapefruit essence" based on oils (La Croix) or "natural flavors" (Bubly). I very much can imagine and taste real juice squeezed and mixed with sparkling water vs. who knows what with the more processed alternatives.
Being Everywhere Matters
Whenever I travel, I try to see if I can find Spindrift. Outside of New York City, it's not alway been easy. Whenever we go to my in-laws in Pennsylvania, we always pack a few cans for the ride there.
When it comes to a daily consumable like Spindrift, it's better to be everywhere than limited to certain "brand-compatible" retailers. Much like Pellegrino, I won't think less of Spindrift if I found it at a CVS/gas station/a local bodega vs. a Whole Foods. What matters to me is convenience and availability. In this way, I equate it to the ubiquity of KIND bars and how they've kept the overall brand feel intact.
But this leads me to another topic: how I'm not at all the target and how I'm not as loyal to the brand as I am to its functionality.
The Spindrift Brand: Not for Me
I'm rarely on Instagram so writing this post was the first time I saw Spindrift's Instagram account. I was immediately reminded that I am not the target demo. It is, predictably, white female 18-35 with healthy lifestyle aspirations and big on Instagram use. Cool, wish I had never seen this.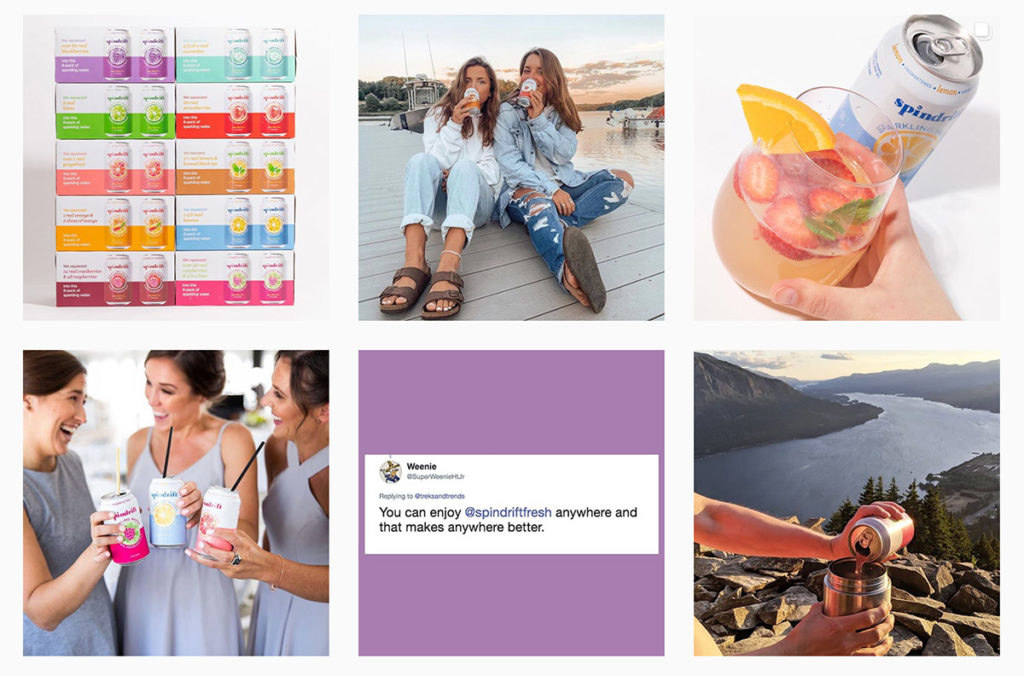 My loyalty to Spindrift is based on its functional features: the flavors, the simplicity of ingredients, the availability via Amazon Prime, and the job it's been successfully hired to do in my life. I've been satisfied enough that I haven't actively looked for an alternative.
But that's not to say that another brand with the same simplicity but slightly different flavors couldn't take its place, especially if they're able to match on price and availability.
For now, Spindrift can expect monthly recurring revenues of around $80-$90 (2x 20-can subscriptions for around $22 and 4x 24-can pack every 7-8 weeks), which means an annual value of $960-$1,080 per year. And nothing says loyalty like actual dollars.
The Spindrift E-commerce Opportunity
Spindrift's own e-commerce site offers the same products at higher prices, so there's no reason to ever make the switch.
That said, I could be persuaded if all of the following were true:
Subscription pricing led to a match with Amazon's prices while also allowing me to accrue some kind of Spindrift loyalty points that could be redeemed for even more Spindrift.
Special early access to new flavors, even experimental or limited edition ones that may never get mass distribution.
Acknowledgement that I'm in the X percentile of Spindrift purchasers and maybe even a VIP designation or ranking # —just some badge to show off because validation, even from a brand, sometimes feels nice.
But short of these, Spindrift comes with my toilet paper and paper towels and occupies its place as just another commodity. A refreshing and tasty one.