Initial Impressions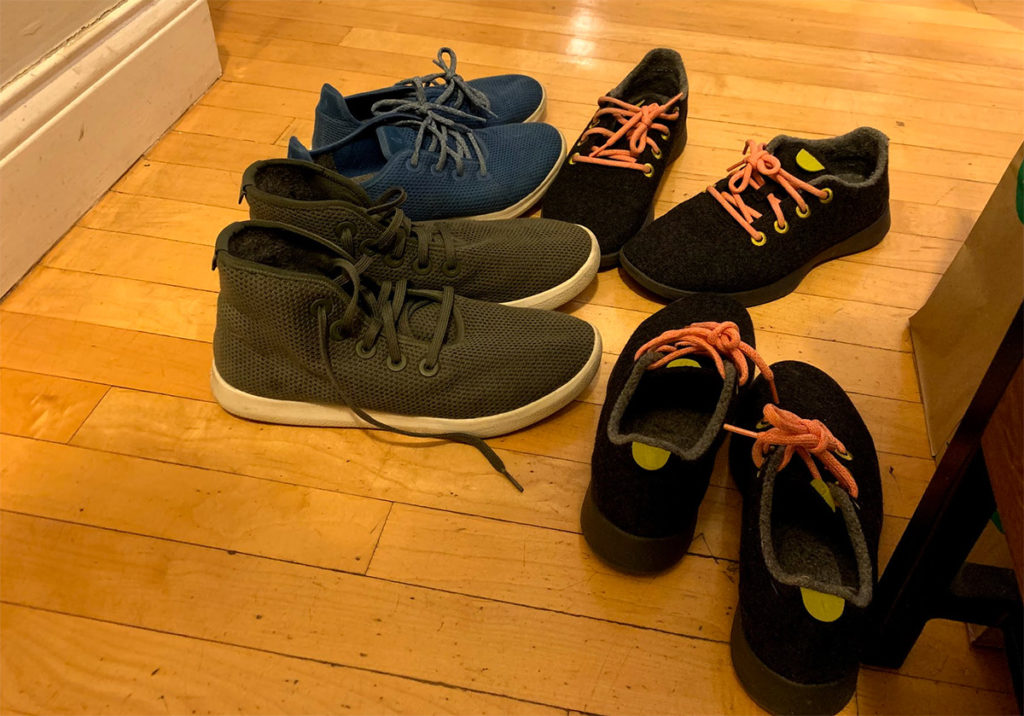 I first became aware of Allbirds like other folks in the creative industry. The branding agency Red Antler had worked on the branding and website, and I saw the link being shared around our office.
My first impression was favorable. I thought the site looked cool and the brand had a nice playfulness to it, but I didn't think much about it.
Today, Allbirds are very popular. I see people wearing them almost daily on my subway commute to work. A quick look on MyIP.MS's database of the ten million most popular websites shows Allbirds at #18,105 and #13 overall for sites that are on Shopify's IP address (#12 if you don't count myshopify.com).
And from my small sample size observations, I've seen a shift in the types of people wearing Allbirds–they used to be young creative types and now I see more older folks my age (mid-thirties) wearing them, perhaps a sign that the brand has become more mainstream.
The following is a retracing of how I got to purchase my first Allbirds shoes and how I subsequently ended up spending close to $1,000 on the brand in just under 2 years.
If you want to skip reading through the details, here's the high-level summary of the journey's touch points:
I have wide feet, hence limiting my shoe options. A friend with a similar problem recommends Allbirds and I buy instantly.
At the moment of purchase, I decide to get pairs for my wife and my mom.
The shoes feel great and I love wearing them.
Months later, I find out from people sharing links at work that Allbirds has released a plant-based shoe. I order right away.
I like the plant-based shoes a lot and subsequently buy another pair in a different color.
I come across their high-top shoes a few months later via a shared Instagram post and buy a pair of those as well.
I come across a paid promotion on the NY Times by Allbirds and click over to find that they're offering limited edition shoes. The one I want is sold out but I still talk myself into buying a pair. I get matching ones for my wife as well.
My mom sees our matching pairs of shoes and compliments them. She tells me her first pair has worn out, so I order a pair for her as well.
You can skip down to the bottom for my takeaways.
The Path to First Purchase
I had been a faithful buyer of shoes from Zappos for over 5+ years. The reason I relied on Zappos so much was because it helped me find shoes that solved a very specific issue for me: they had to be wide, like very, very wide.
I was born with pretty wide feet. What made it worse was that for the first twenty-five or so years of my life, I wore shoes that were too tight because the standard sizes I found at Foot Locker were for normal feet. As a result, the seams of my sneakers near the pinky toes ripped without fail after 4-5 months of wear. Every pair I can recall from 2nd grade until my adult years ended up this way.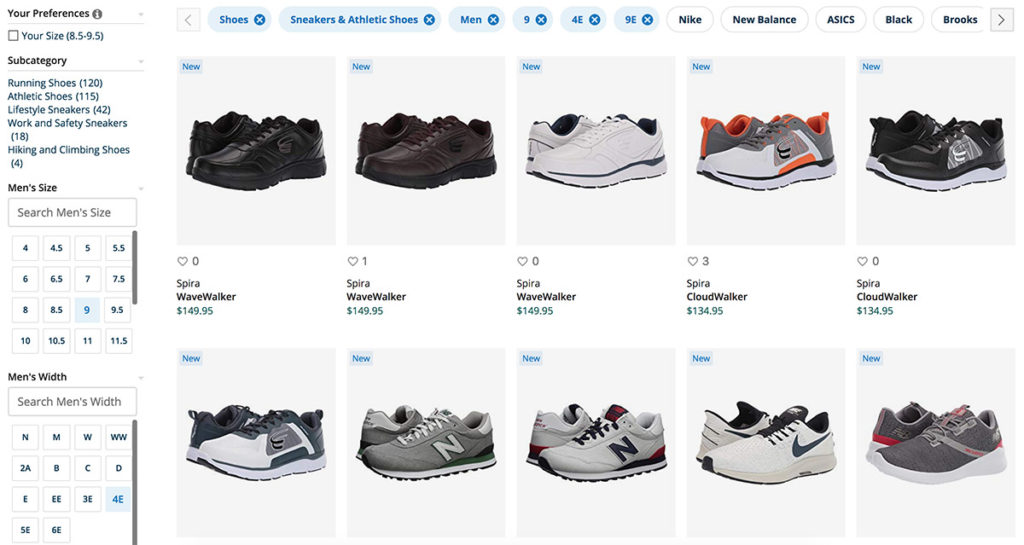 It wasn't until I came across Zappos that I realized you could shop for wider sized shoes. By then, due to the foot-binding abuse, I had developed a pretty noticeably bunion on my left foot, making my overall footprint even wider. I was able to find comfort in New Balance 4E-width shoes. These were chunky shoes that weren't much to look at but were nonetheless more comfortable than shoes I'd worn throughout my life.
Over the years, I sampled a good number of the very limited selection of wide shoes that Zappos carried. None of the cooler shoe models came in the width I needed, so it was always slim pickings for me.

By the time I came across Allbirds, I had found a pair of Nike Dart 12 shoes that came in a rare 4E size (Nike typically has very few 4E shoes on Zappos – only 32 styles at size 9/4E the last time I checked). They were comfortable enough, but even at 4E, I found that Nike's shoes ran thinner, and about eight months in, I began to see a tear on the outside of left shoe.
Around this time, a good friend had started telling me about how awesome his Allbirds were. He said he wore them every single day and didn't even have to wear his socks because they didn't get smelly. I didn't think much about it because my friend didn't have wide feet, so I never really cared for shoe talk unless it was something I was sure I could wear comfortably myself.
Some months later, I met up with another friend of mine who like me is afflicted with very wide feet. He had flown in from San Francisco and we were grabbing drinks. He pointed to his shoes, a grey pair of Allbirds, and mentioned how comfortable they were. "Most comfortable shoes ever, man," he told me.
That's all the convincing that I needed. I knew I had to order the shoes right away.
On a Monday night in May 2017, I decided to pull the trigger. I was trying to choose between the Runner or Lounger and then between the handful of colors that were available. I asked my wife what she thought. She took a look and while browsing, we ended up looking at Women's shoes options as well. I asked her if she wanted a pair if I got one, my treat. She said sure. My mom, who was staying with us at the time, was sitting in the living room when I was placing my order, so I asked if she wanted a pair, too. She said, I don't know, don't waste money. I told her not to worry and asked her for her size and then told her to pick a color and whether or not she wanted laces (she didn't).
My first order from Allbirds was for a Men's Wool Runners / Natural Grey / Light Grey Sole Size 9 just like the pair my friend had, a Women's Wool Runners / Kotare Mint Size 8 for my wife, and a Women's Wool Loungers / SF Grey Size 7 for my mom. It cost me $285 and shipping was free.
Product <> Feet Fit
I was very happy with my pair of Allbirds shoes. They were comfortable and stretched nicely to accommodate my wide feet. I wouldn't call them the most stylish shoes, but they didn't look as clunky as my New Balances.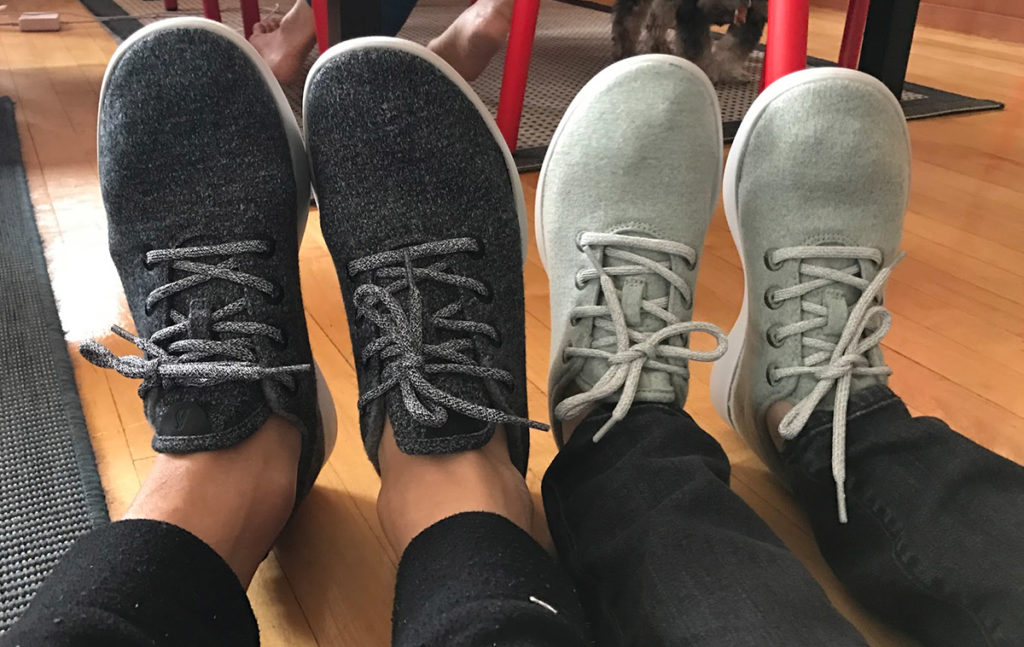 My mom liked her pair quite a bit and wore it often. My wife less so as she had a larger rotation of flats, boots, heels, and sneakers.
I wore my Allbirds throughout the warmer summer months and into the fall. When it got colder and rained or snowed, I opted for boots, especially since the Allbirds weren't great in wet conditions. But by then, I had put a lot of mileage on the Allbirds and it was beginning to look a bit misshapen like a beat-up pair of socks. I guess that's what happens to shoes that conform so well to the shape of your feet.
The Second Pair
I saw some chatter on our company Slack about Allbirds having released a new type of shoe. While I receive Allbirds marketing emails, I don't think I've opened more than a couple. However, I was curious to see what these new shoes were and saw that they were Tree Runners, shoes made from eucalyptus tree fiber. Knowing my Wool Runners were nearing their end, I placed an order for a pair of Tree Runners / Kauri Navy with White Sole in size 9. It cost me $95.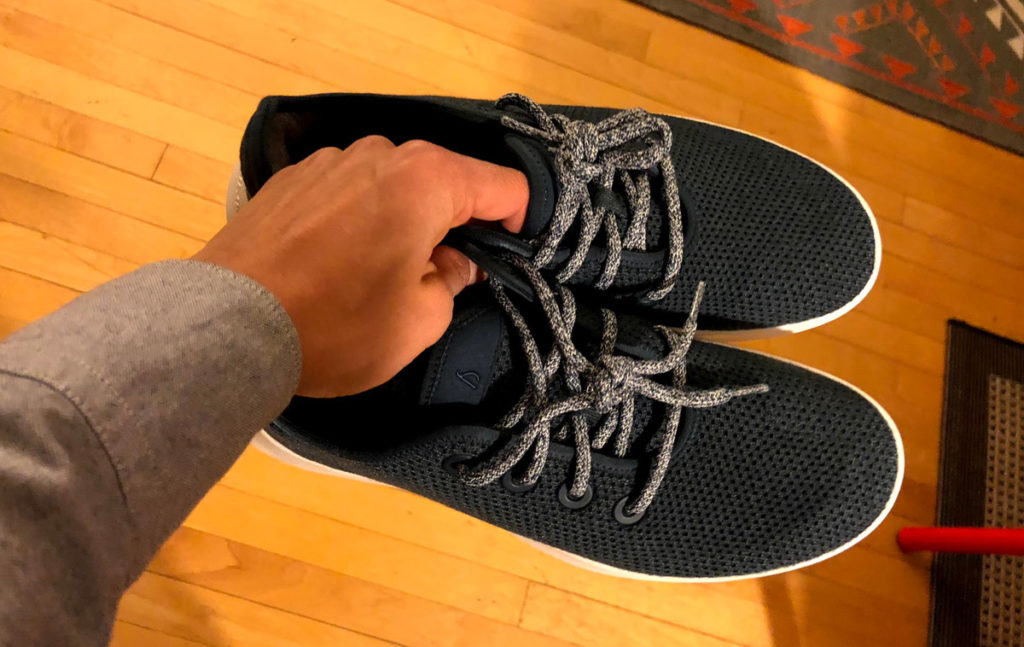 I liked the Tree Runners much more than the Wool Runners. Something about the mesh-like texture of the shoe felt more durable to me. I wore them every opportunity I got.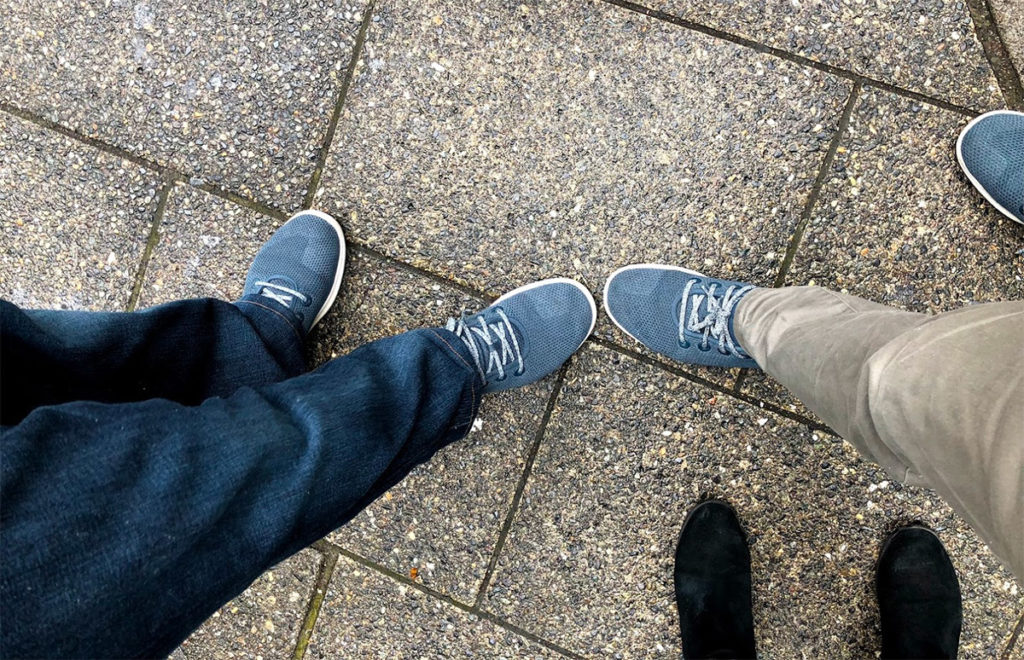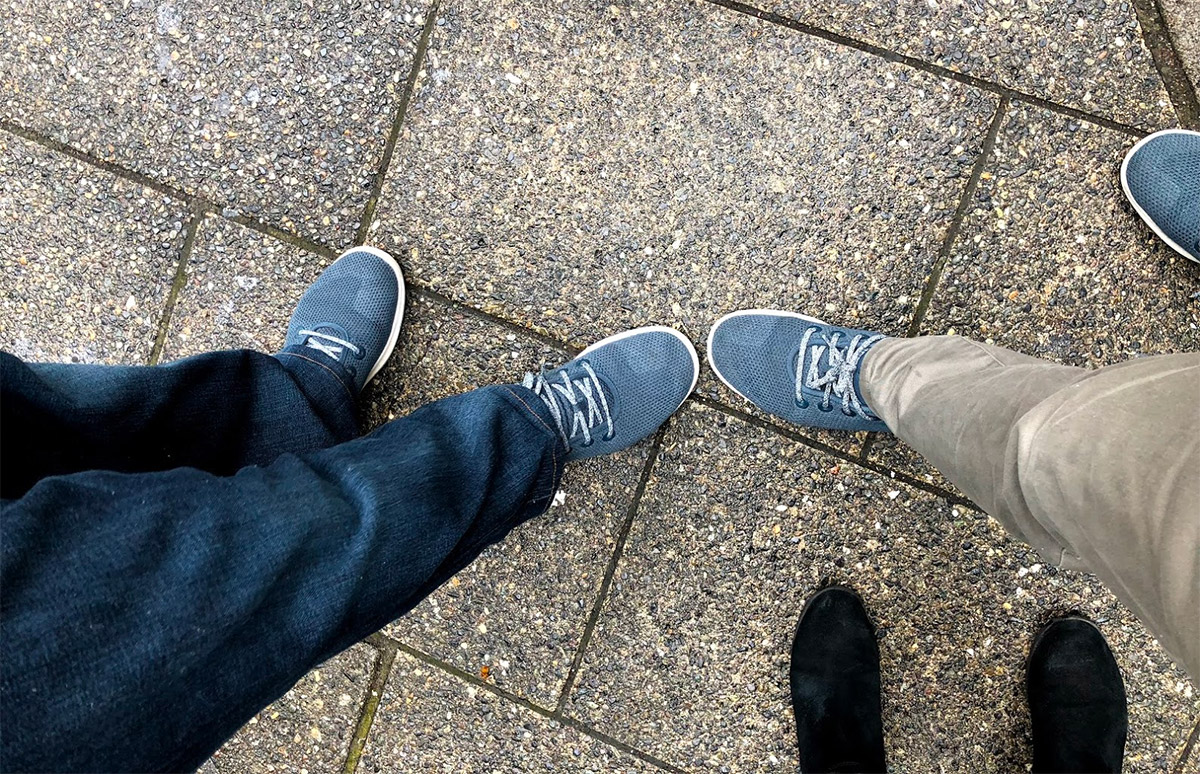 The Third Pair for Brightness
The website says that Allbirds shoes are "machine washable", but I actually never bothered. When my pair of Kauri Navy Tree Runners started to get a bit dirty, I decided to just get another pair. I told myself I was tired of the color and wanted something brighter for a change. I ordered another pair of Tree Runners, this time a Kauri Cobalt with White Sole in size 9 for $95.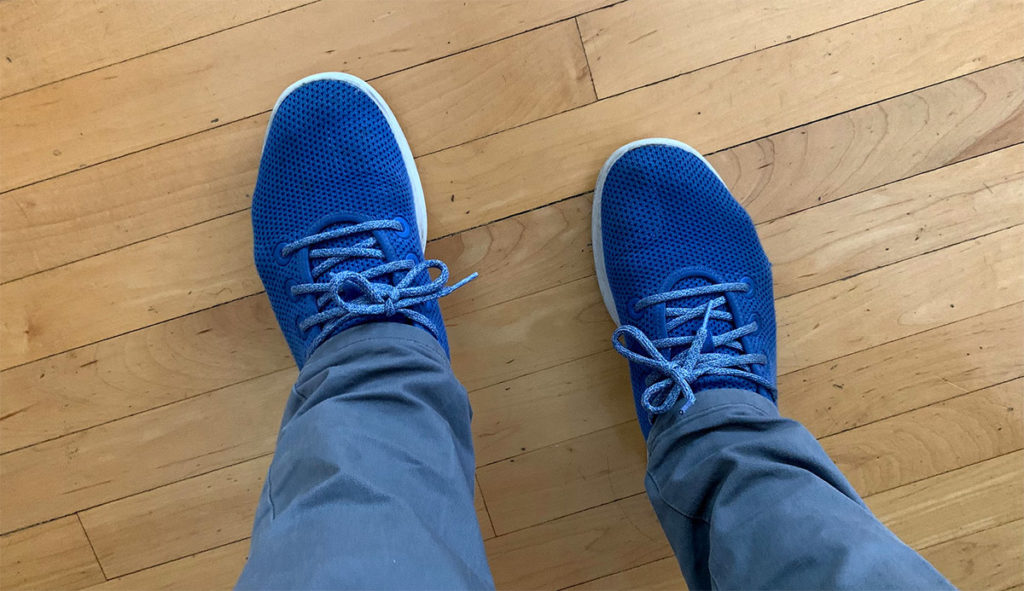 It had been about 5 months since the first pair of Tree Runners and already, I decided to retire the first pair. In hindsight, this feels a bit wasteful, but then again, I liked the brighter pair better and I still have it in my rotation today.
The Fourth Pair Comes Quick
Just 3 months later, I found myself buying a pair of Tree Toppers. I believe I found out because a friend texted me a link to an Instagram post about them. I don't use Instagram on my phone at all, but I was able to see from the preview image in the text message that it was about a new format shoe, so I visited the Allbirds website.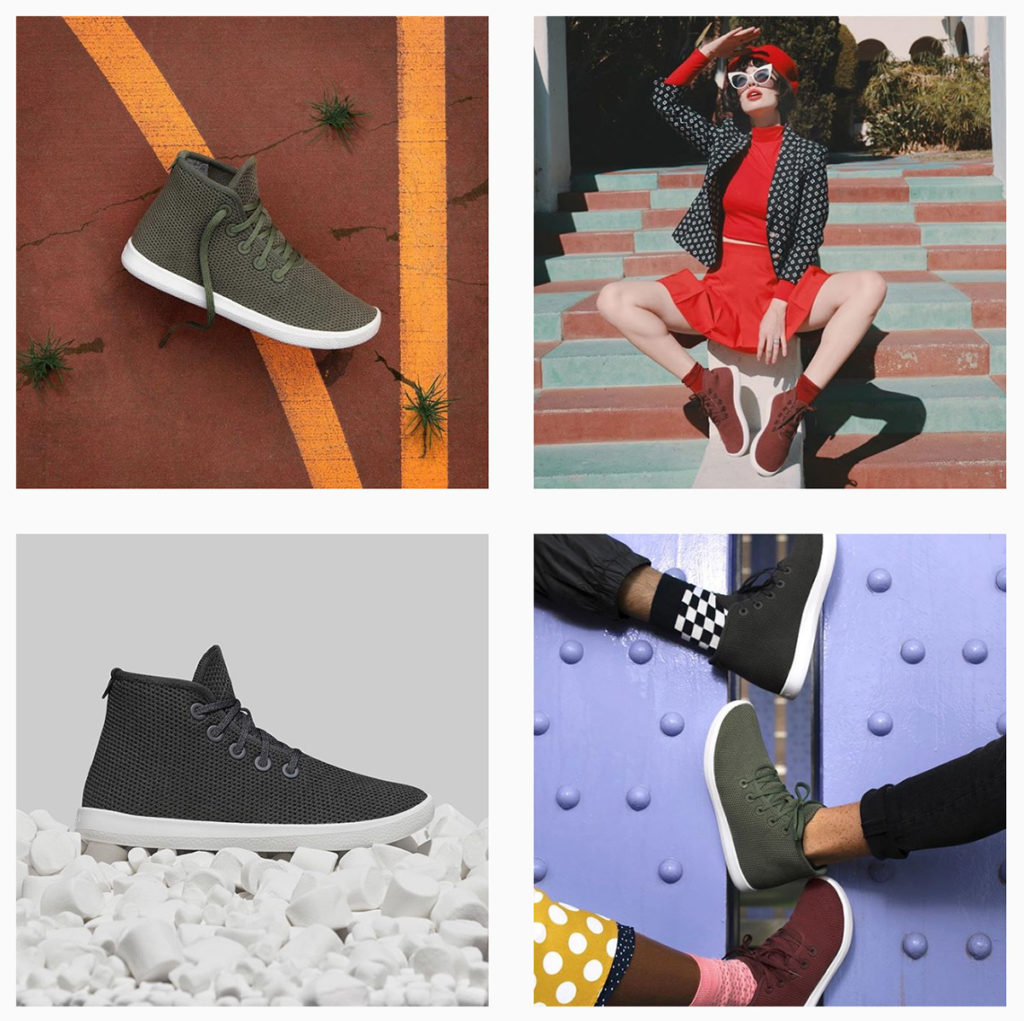 The Tree Toppers are the same as the Tree Runners but are high top shoes that cover the ankles. As it was getting colder outside, I thought it'd be nice to have a shoe that covered my ankles and also really liked the idea of having a pair of green shoes. I ordered myself a pair of Tree Runners / Kauri Fiddle-Leaf with White Sole for $115.
Looking back, this was the only pair that, perhaps due to where it was fulfilled, charged me New York City and State taxes, bumping the cost up to $125.21.
The Tree Toppers have been great. I've rotated between the Tree Runners and Tree Toppers, so I feel like the shoes have lasted longer as a result.
Special Edition Impulse Buy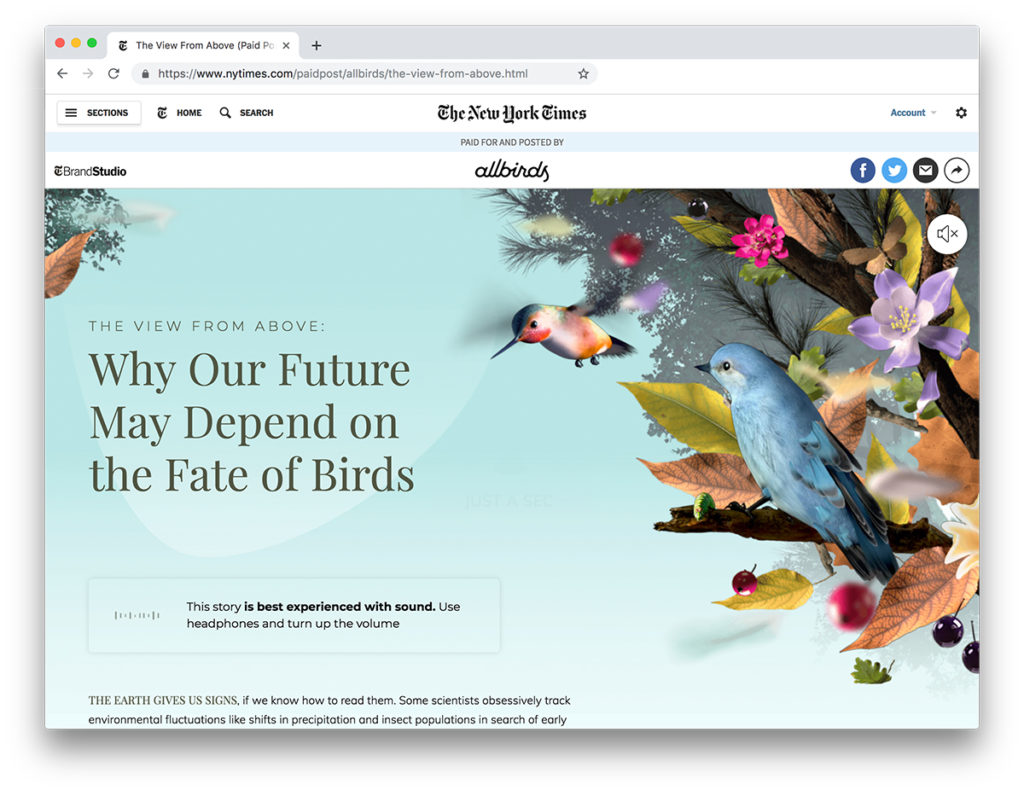 In April, I clicked on a link that someone shared in the Leanluxe Slack room. It was an Allbirds-paid post in The New York Times that featured some really fancy animations and an article about the impact of climate change on hummingbirds. The article ends with a note about how Allbirds is going carbon neutral. I clicked over to the Allbirds site curious to see how this tied into their products and lo and behold, they were selling special edition shoes inspired by the color of hummingbirds.
I really liked the color of one of the Tree Runners but my size had already sold out. As I explored alternative colors, I asked my wife for her opinion. I settled for a pair of Wool Runners in Scarlet Tanager with Black Sole. I asked my wife if she wanted a matching pair for fun and also because her pair was already a couple years old. She said "sure" in passing and I placed the order, two pairs of Wool Runners in Scarlet Tanager with Black Sole, sizes 9 and 7 for $190.

I've been liking the bright laces. The nice thing about Allbirds is that even after the fifth pair, the fit is consistent. I know what to expect. I'm never going to get a compliment from a sneakerhead or make any kind of style statement. They're just comfortable shoes that are good for everyday wear to and from the office or for walking the dog around the block.
One More Pair for My Mom
My Mom was over our apartment the other day and she noticed our new Allbirds. She said it was cute that we had matching pairs.
I asked what had happened to the Allbirds I got for her a couple of years ago. She told me that she wore them all the time and that they wore out several months ago. She had moved on to a different pair of shoes. I asked if I could get her another pair.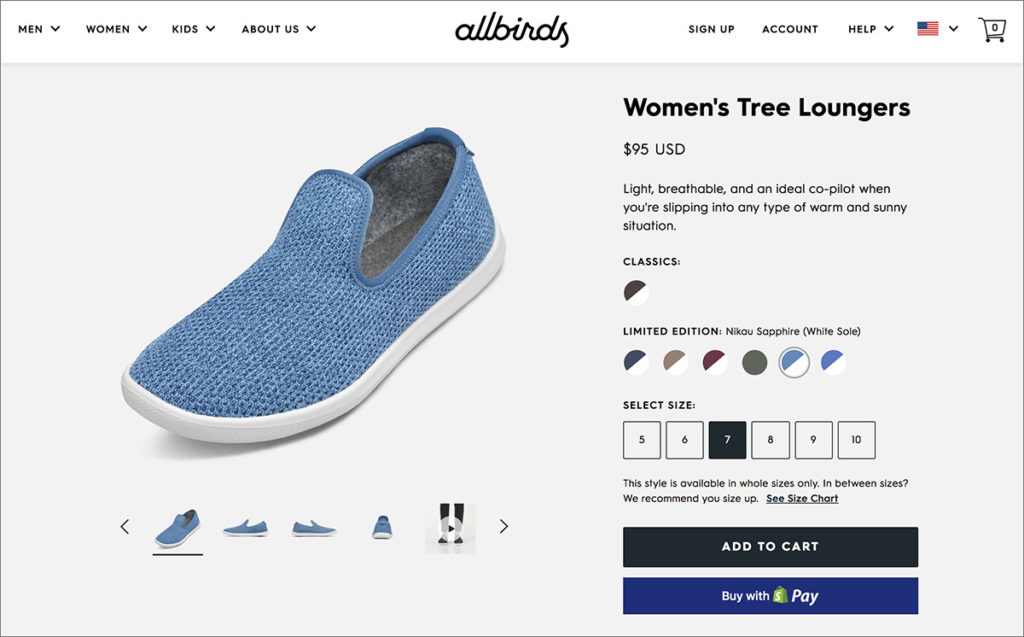 I told her that she ought to try the Tree Loungers this time rather than the Wool Loungers. I pulled up the website on my laptop and we clicked through all the colors. She chose the Nikau Sapphire with White Sole, a light blue color. I clicked on the "Buy with Shopify Pay" button and within a couple of clicks, I had placed yet another order.
The shoes came just in time for Mother's Day and my mom was very happy.
Reflecting on the Allbirds Customer Journey
The catalyst that started my relationship with Allbirds was the word of mouth referral from my friend. The fact that Allbirds solved the exact same issue that I suffered from (wide feet, shoes being uncomfortable) led me to convert.
From there, the brand stayed top of mind in a number of ways. While I largely ignored their email newsletters and did not follow them on social, they still managed, through word of mouth (in a Slack chatroom or via texts from friends), to get me to learn about their new product and make another purchase.
I also believe that the process of going through a 2nd purchase made it that much easier for me to place my subsequent orders. Through Shopify Pay, my subsequent orders landed me right at a convenient checkout page where I didn't have to enter any details (and at most, just enter a code sent to my phone to verify). This is something we take for granted on a site like Amazon, but it's nice to see this become more prevalent with sites that use Shopify Pay.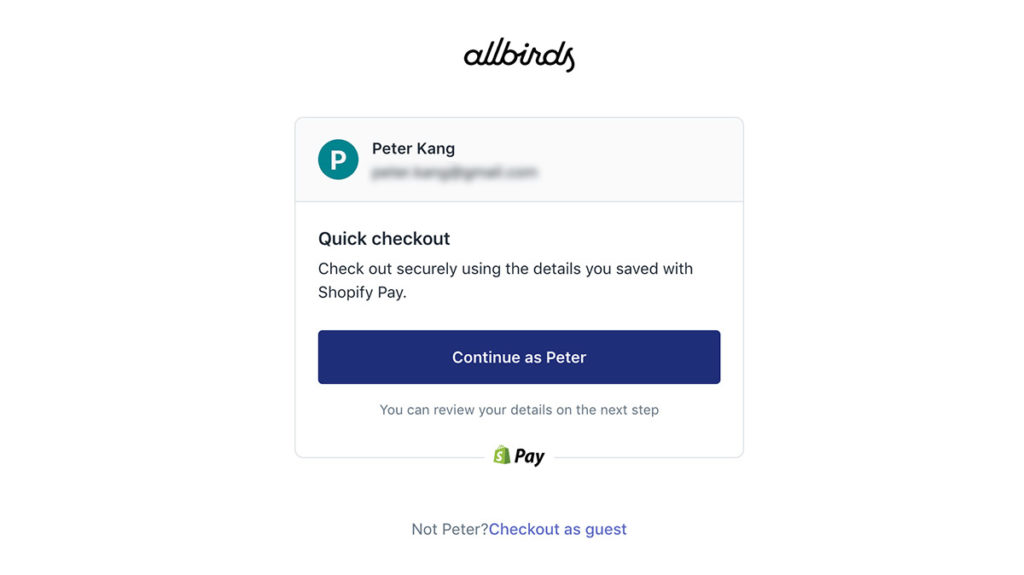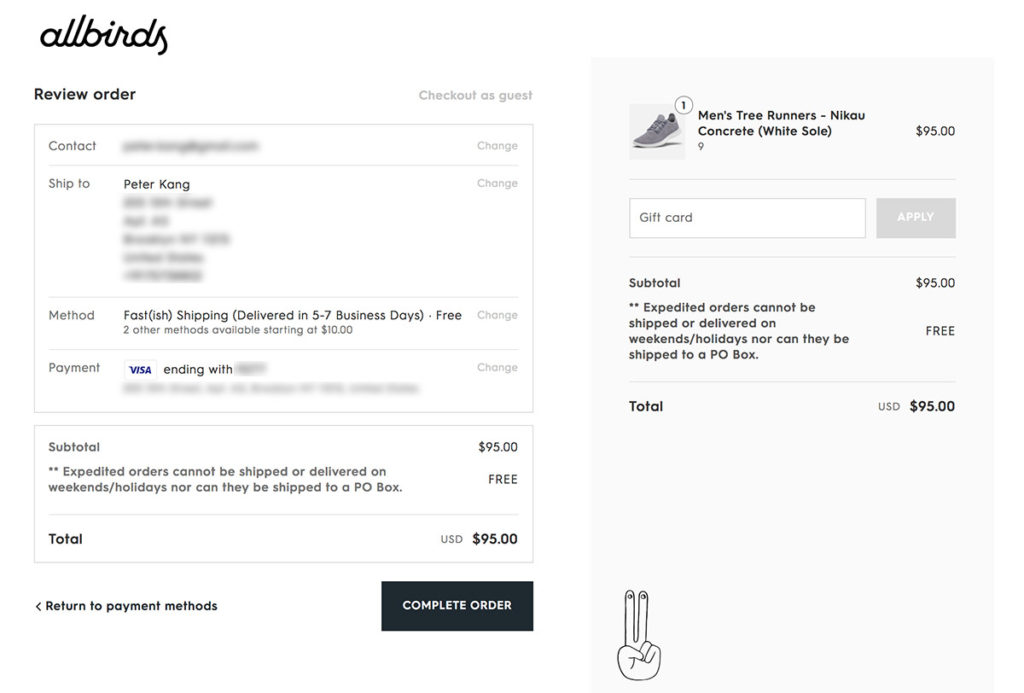 And speaking of 2nd time purchases, I was easily able to buy another pair for my wife and my mom because I had already bought them a first pair and had confidence that the sizing would be good. Purchasing stuff online, this fact can't be underestimated–there have been plenty of times when I've balked at buying something for someone because I didn't want to bother with getting the size wrong. This is why we'll probably see more being done in the area of fit/size technology in ecommerce in the coming years (e.g. augmented reality, size-guessing algorithms, etc.).
Although my guess is that my lifetime value as a customer is on the high end, I don't consider myself much of a die-hard fan or an advocate. I'm actually envious of folks who wear other brands because their feet are narrow and can slip easily into standard size shoes. If anything, Allbirds is more of an "oh well, it's comfortable and looks alright" choice and I'll take whatever pleasure I can get from the small selection of color variations they offer throughout the year.
Update 6/13/2019: A Free Gift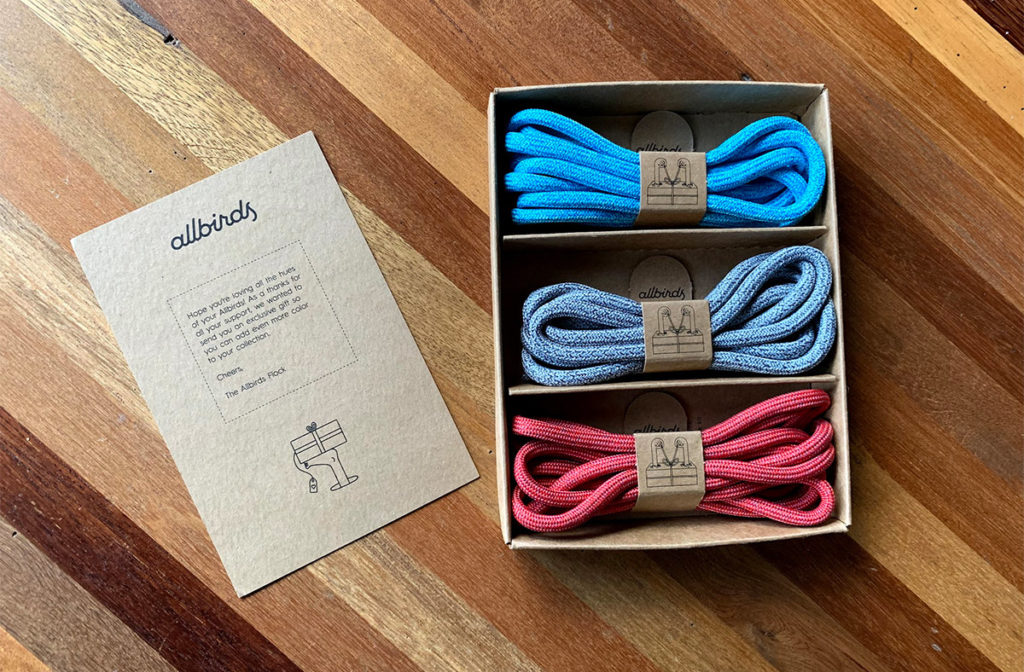 I found a small package from Allbirds. It was a set of three colorful laces. I'm guessing it's sent to customers who spend a certain amount.
The package contained three colorful laces. The message said: "Hope you're loving all the hues of your Allbirds! As a thanks for your support, we wanted to send you an exclusive gift so you can add even more color to your collection."
My wife noted that we can now have different color laces for the matching pair of the special edition hummingbird shoes I bought for us.