Note: The image of the wine store above is not the store described in this article, so stop trying to guess!
I've been going to the same wine store in South Slope for over 12 years. By my estimation, I've spent at least $5,000 if not closer to $7,500 during that time at the one location. However, nobody at the store knows my name. They do not have my purchase history. Even though I've been helped by the same folks, nobody has made an attempt to get to know me or my preferences.
What I get for my continued patronage is a punch card. When I get 12 punches, the 13th bottle I can purchase for $0.99. The value of that bottle is determined by the average price I paid for the 12 bottles. I also get to write my email down on the back, which is then entered into a monthly drawing for some prize. Despite numerous entries, I've yet to win.
For all its charms and the seasonally updated window decorations, this wine store suffers from a customer relationship management (CRM) problem.
The CRM Opportunities
I've found that the wine stores in my corner of Brooklyn (and also in Lower Manhattan where my office is) are generally old school when it comes to data capture.
I've visited the same wine store at least 200 times in the past 12 years. The purchase data alone should tell a really rich story about my preferences (wine types, wines vs. spirits, etc.), my price range, average basket size, frequency of purchases, seasonal behavior, etc.
Across that span of time, you could even get a sense of the shifts in my taste and spending (e.g. lighter reds from Europe, higher per price bottle).
Even at just 1 or 2 visits, you can get enough data about a customer to do some serious segmentation and personalization.
Let's imagine that this wine store decides to invest in a new point of sale (POS) system with much better CRM capabilities that also syncs with an email service provider and their e-commerce platform (e.g. Shopify POS + Klaviyo + Shopify website). What are some of the things that would engage me more as a customer?

Example 1: Notifications about upcoming tastings that match my purchase history
My purchase history will show that I tend to buy a lot of Italian and French reds. Any time there is a tasting at the store featuring such wines, a segmented email letting me know about the tasting would be a welcomed piece of content. If it happens to be on a Saturday or Sunday afternoon, I could stop by while running errands and maybe pick up a bottle or two.
If the store wants to be more ambitious, they could get my phone number and shoot me the occasional SMS text about a tasting, especially closer to the actual date as I'm more likely to check SMS on weekends than email.
Example 2: VIP Tease and Perks
I have no idea where I would rank in terms of customer lifetime value at this store, but I figure it's gotta be in the top 25%.
One way for the store to cultivate loyalty would be to introduce a VIP program for those who spend a certain amount every year (or cross a lifetime threshold value).
The key here is to let people know about the existence of the program and to tease the perks and show that spending a certain level would unlock access. It would be cool to have some kind of welcome gift or offer for those who make it onto the list.
Some ways to program around a VIP list would be to invite folks for free special tastings of rare and expensive wines or a talk given by a producer or sommelier. The wine store could also partner up with a local restaurant and do a special wine pairing dinner–I know folks in this neighborhood would eat that up.
There can also be a "limited availability for VIPs only" release of certain wines that are "held" for people on the VIP list and only released storewide if there are any left. And during slow seasons, VIPs can be incentivized to purchase with exclusive sales only available to them.
Example 3: In-store Experience
I have yet to experience anything like this at a wine store, but here's a dream scenario: I'm greeted by someone who works there. Let's say it's someone new who just started. They ask if I've been to the store before and I say yes. They ask for my name and they quickly pull up some information on their mobile device. They take a quick look at my stats – date of last purchase, what I bought, my customer lifetime value to see how loyal of a customer I am – and armed with this context, they're ready to help.
One question they ask is how I enjoyed my last bottle of pinot noir that they saw on my purchase history. This leads to a conversation about trying something similar or something completely different. It segues nicely into what I'm looking for today as well. In the course of the conversation, I mention a cab that I really liked from a few months ago, but I can't recall the name. The salesperson does a quick browse of my history and asks if it's the Chilean cab, showing me a pic of the bottle. Ah yes, I respond, and I ask if there's something else like it, leading to a handful of recommendations.
Imagine a CRM system that layers on some more sophistication to highlight my record with some key takeaways for the salesperson. A personalization engine like Dynamic Yield or Nosto could surface even simple things like "this customer prefers reds over $25" or "this customer likes to buy at least 4 bottles at a time". This info helps tailor the in-store experience and allows for real-time segmentation between long-time loyalists vs. first-time customers.
Example 4: Seasonal Messaging
I can see a wine store getting a lot of mileage from a basic set of seasonal messaging that can be repeated each year, perhaps with some merchandizing and creative swaps. These are a few I can think of off the top of my head:
Feb: Treat your Valentine with an indulgent bottle
Spring: Welcome Spring with our selection of bright, floral whites
Memorial Day: BBQ / Picnic / Beach wine picks
Independence Day: Rosé, orange wines, and other summer picks
Fall: New reds to enjoy as the weather turns
Thanksgiving: Wines to bring to your Thanksgiving dinner
Holidays: Festive wines for the holidays
Late Dec: Bring in the new year with champagnes from small producers
A wine store with great CRM chops might send variations of these campaigns to different segments featuring wines at low, mid, and high price points based on the audience. Wine stores that embrace omni-channel consumption may offer ecomm with free delivery for certain order amounts or also pick-up options at the store, capturing payment via a mobile-friendly experience.
What'll It Take?
Twelve years is a long time. The experience I have at the wine store has remained unchanged. They updated the design of their punch card some years ago, but it works exactly the same way. 
Is business good enough that it's not worth fussing about with extra technology? Or is business in such a precarious spot that the investment would be a risk? Isn't it a risk not to invest in things that improve the customer experience?
Most of the "innovation" I've seen in the wine space has been online with direct-to-consumer wine sites like Firstleaf that "personalize" a selection of wines based on your preferences and send periodically based on your subscriptions. We get these quarterly for our office but I generally find their packaging wasteful (the cards with the descriptions go straight into recycling) and we assume the wines are just the cheapest budget ones that give the business most margin while not tasting horrible.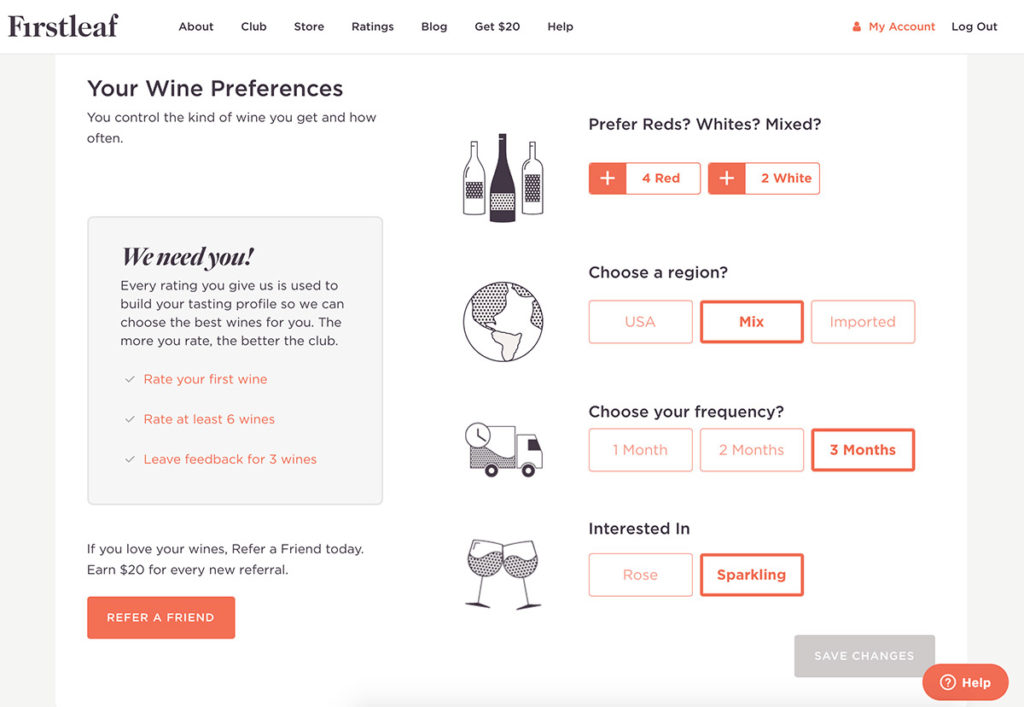 If anything, I've been most impressed with how certain wineries run their wine clubs. I liked the simplicity and sleekness of the membership experience on Mayacamas Vineyards website (I'm subscribed to the Silver one) and hope to take advantage of a visit to their vineyard one day when I'm out on the West Coast.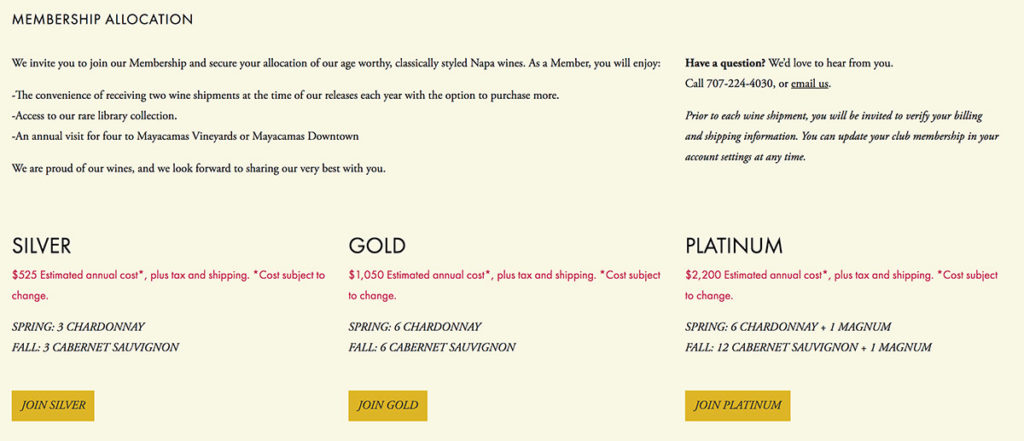 I also liked how Realm Cellars did their limited run of two special edition wines and leveraged SMS to notify when they went live. I was in a meeting at the time and was disappointed to see the one I wanted sell out a few hours later.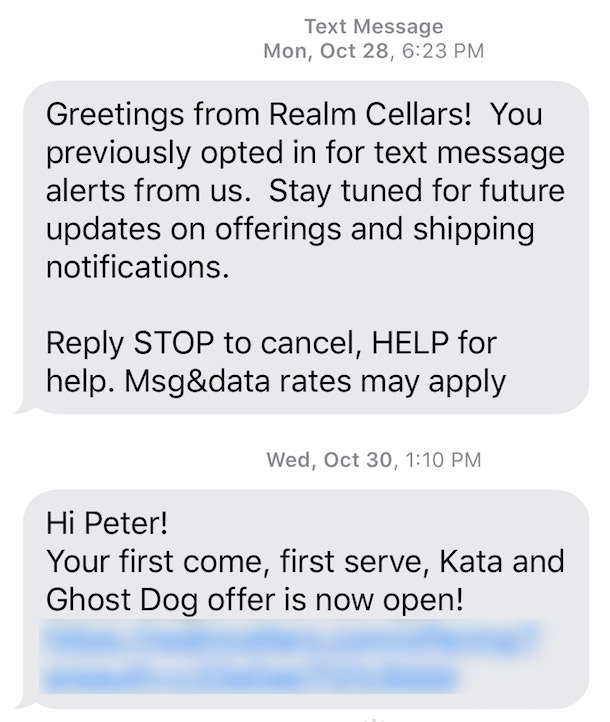 Do the economics of a wine store, especially a small neighborhood one, make it especially difficult to innovate (or at least adopt some widely available technologies)? I hope someone reading this would reach out and enlighten me, I'd love to know.
I'm sure there are wine stores out there doing a better job with CRM than the one near me, providing customers with personalized experiences in-store and better email/SMS communications. However, in all my years living in New York, I've yet to see one that impressed me.
In the end, though, convenience of location seems to trump all these things and I'm basically a captive customer. I'll continue to patronize the same store that, even after casually picking up $250 worth of wine on a Friday night, still doesn't bother to know who I am.